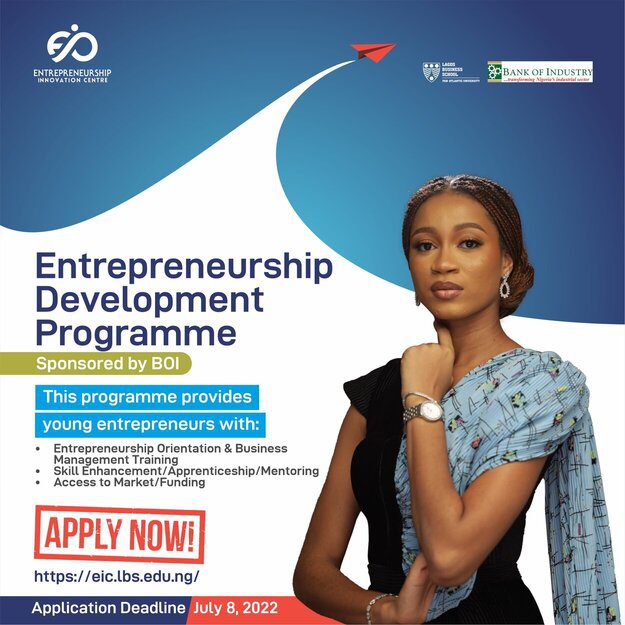 BOI-LBS Entrepreneurship Development Program 2022 for young Nigerians
Application deadline: July 8, 2022
The BOI-LBS Entrepreneurship Innovation Center was created to develop impact-driven entrepreneurs who use for-profit business models to solve problems and positively transform society. The program aims to produce a new breed of innovative, problem-solving entrepreneurs who will transform society and reshape the national economy through job creation and the commercialization of their solutions globally.

Target audience:
The target audience includes for-profit entrepreneurs whose businesses solve problems or positively transform society.
They may include NYSC members, college/polytechnic graduates, potential BOI clients (minimum qualification: WAEC)
Eligibility criteria
The following key criteria will be used to assess potential participants:
– Be at least 18 years old. Having entrepreneurial experience will be a plus. Could be a start-up or have been established for a few years already. More importantly, the business must solve a problem or meet a need and must be scalable.
– Be a citizen or legal resident of Nigeria.
– Be available to commit to the training schedule
– Special attention should be paid to young people and women.
– Two letters of recommendation

Certification requirements:
To be considered eligible to receive a certificate, you will need to:
• Attend at least 80% of the sessions of each course and obtain at least 60% in each of the courses.
• Considered to be of good character as defined in the training policy to be signed upon acceptance.

The training will take place in four phases:
Phase I: Entrepreneurship orientation and training in business management (Duration: 3 months)
Phase II: Technical training to build the capacity of successful candidates from Phase I (duration will depend on the type of skill acquired and the level of expertise of the selected candidates (can be 6 months to 1 year)
Phase III: Learning/Business Incubation/Mentoring Opportunities: Experience applying the skill in the context of a larger business (3 months to 1 year). (Phases II and III may occur together in some cases).
Phase IV: Access to markets and financing: platforms (online and offline) will be facilitated to enable access to wider markets. Where appropriate, access to financing will also be facilitated.
These four phases aim to comprehensively provide everything an entrepreneur needs to succeed. The four phases ensure that participants are trained to become entrepreneurs capable of running profitable, sustainable and transformative businesses in Nigeria, which serve markets in Africa and around the world.
Application procedure:
• Complete the online form (upload the certificates and two letters of recommendation)
• Interview process
• Letters of admission will be sent to successful applicants
Structure of the program:
Entrepreneurship orientation and business management courses will be held 3 days a week for 3 months as follows:
Tuesday, Wednesday and Thursday, every week
• Session 1: 10:00 a.m. – 11:15 a.m.
• Break: 11:15 a.m. – 11:45 a.m.
• Session 2: 11.45 a.m. – 1 p.m.
• Lunch break: 1:00 p.m. – 2:00 p.m.
• Session 3: 2 p.m. – 3:15 p.m.
For more information:
Visit the Official Webpage of the Bank of Industry Entrepreneurship Development Program