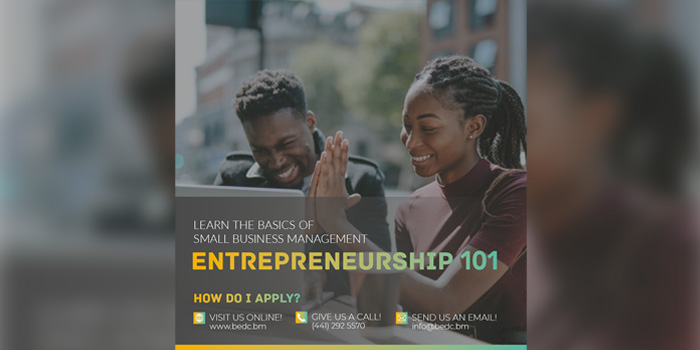 BEDC is preparing to organize an entrepreneurship course
Registration is open and enrollment has begun for Entrepreneurship 101, an entrepreneurship education course run by the Bermuda Economic Development Corporation [BEDC].
A spokesperson said: "The Entrepreneurship 101 course provides new entrepreneurs and aspiring entrepreneurs with the knowledge, tools and resources to start their business successfully. Participants can expect to come away with an understanding of the basics of running a small business and how to create an effective business plan.
"The course will run from October 11, 2022 to January 17, 2023, with sessions every two weeks, on Tuesdays from 6 p.m. to 8 p.m. The course will be facilitated by Donte Hunt, Micro, Small and Medium Enterprises Manager at BEDC.
"When developing the curriculum for this course, we kept in mind some of the key challenges faced by Island entrepreneurs. At BEDC we regularly meet with business owners, so I am aware of the difficulty of starting and operating a business in Bermuda. Entrepreneurship 101 is a great way to master the process.
"Entrepreneurship 101 will cover the following topics:
Make the decision to start a business;
Validate your product or service;
Writing a business plan;
Understand government obligations;
Know the cost of your business;
Finance your business; and
Marketing, Operations and Human Resources.
"Former students have said that this course helped them learn what it takes to operate in Bermuda and provided them with the foundation they needed to start their business."
Gwendolyn Creary, a graduate of the course, said: "Entrepreneurship 101 was one of the big turning points in my entrepreneurial journey. Almost every week, an expert in a particular aspect of business creation was invited to present their expertise and be an industry interlocutor. They offered participants opportunities to be supported and valued, no matter what stage of their journey as an entrepreneur.
The spokesperson said: "Entrepreneurship 101 aims to help entrepreneurs improve their business knowledge and guide them through what can seem like a daunting process. The more knowledge they have, the easier the process and the faster they can start their business.
"The Entrepreneurship 101 course will be taught at the BEDC Office, 1st Floor, Sofia House, 48 Church Street, Hamilton, every other Tuesday from October 11 to January 17 from 6pm to 8pm. The cost of the course has been reduced from $300 to $180. Places are limited, so register today to avoid disappointment.
"For more information or to register for the course, please visit www.bedc.bm; email info@bedc.bm or call 292-5570.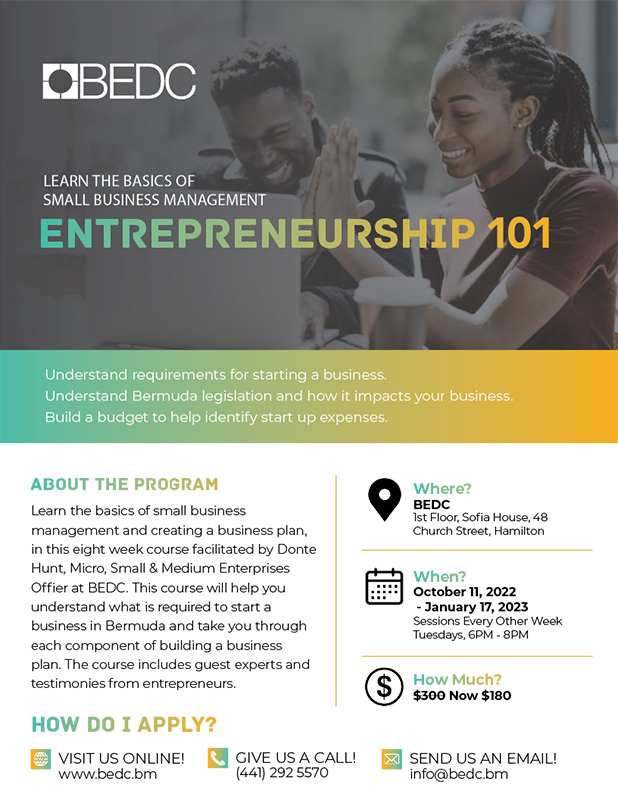 Learn more about
Category: All, Company