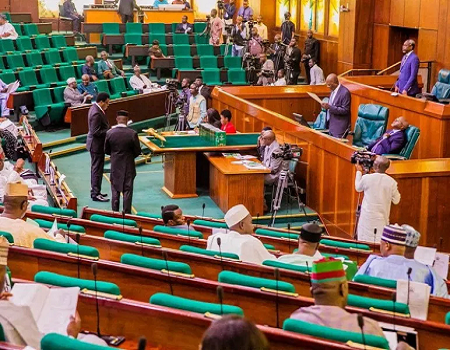 Representatives back Youth Entrepreneurship Development Fund Bill
On Wednesday, the House of Representatives expressed support for the passage of legislation to create a youth entrepreneurship development trust fund as part of ongoing efforts to combat the threat of unemployment and underemployment in the country.
Lawmakers expressed their support during the debate on the general principles of the private member's bill, sponsored by the Honorable Farah Dagogo.
In his main debate, Hon. Dagogo explained that the proposed legislation, once approved by Mr. President, would not only stem the ugly trend of unemployment and underemployed citizens, but would also provide financial assistance to young Nigerians who could galvanize and strengthen the country's ailing economy.
While describing Nigeria's youthful population as paramount, he assured that the proposed legislation would provide them with a vehicle for assured socio-economic security, ensure reduction in unemployment, diminish social vices and produce a confident and worthy citizen of the world in the average Nigerian youth.
According to him, "This bill, to me, is one of the catalysts that would stem the tide of some of the hostilities that we are currently experiencing in this Nation, especially from the young people of our great country, who represent approximately half of our entire population and over 40 percent of whom are currently unemployed or underemployed, but are undoubtedly considered the nation's emerging leaders.
"This bill seeks to establish a fund which will be used to provide financial support to young Nigerians with entrepreneurial skills, and provide a vehicle for assured socio-economic security as well as galvanize them to become self-reliant, employers of labor. laborers and captains of industry.
"The 'Youth Fund' will not only reduce the unemployment and social vices that characterize Nigerian society today, but will also serve as a strong indicator that the country is very particular about its young people and has them in its plan.
"The Nigerian state must protect its people – the youth – who arguably constitute more than half of the country's population and are the future leaders. It is undeniable that the youth has been wiped out; we have a colony of them suffering from unemployment or underemployment and the State is aware and not unaware of this fact.
"Year after year, thousands of young Nigerians are thrown out of tertiary institutions, but the state does not have enough carrying capacity to empty them. This is indeed a tall order because the idle mind would always be the devil's workshop.
"This fact has led to the trend of crimes and criminality in society. This bill seeks to cure those ills," he noted.
In other to ensure adequate funding and transparency of the management process, he said: "We propose that sources of revenue be no less than 5% of capital estimates in the Appropriations Act each year and that profits periodically from approved investments taken from the capital of the Youth Fund.
"We are also calling on private entities to contribute to the Youth Fund. Therefore and obligatorily, they would contribute approximately one percent of reported profits and other income rightfully accruing to the Fund through means not contemplated in the bill.
"It is important to note that the Youth Fund should be run by young people, so they would populate the board. There would be fiscal accountability which would engender transparency and accountability because relevant sections of the bill have been proposed to address these issues," he noted.
YOU SHOULD NOT MISS THESE NIGERIAN TRIBUNE HEADLINES
FALSE! Yoruba is not an official language in Brazil.
Allegation: A national newspaper and several online platforms claim that Brazil has adopted Yoruba as its official language and that the language is included in the curriculum of primary and secondary schools.
Verdict: The statement is false. The content of the article published by these online platforms is not new; it has been recirculated several times and has been debunked.
Representatives back Youth Entrepreneurship Development Fund Bill