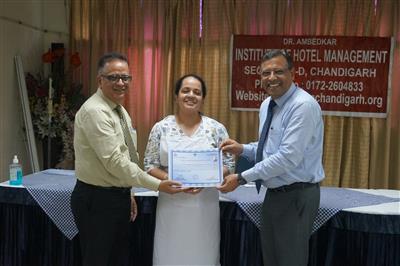 Entrepreneurship Development Program
Chandigarh, August 5, 2022
Dr. Ambedkar Institute of Hotel Management, a leading hotel management institute under the Ministry of Tourism, Government of India, has entered into a special batch of "Entrepreneurship Development Program" under the "Skills Development" program from the Indian government.
The program was launched to create employability and entrepreneurship skills among applicants. This was a six-week full-time course in the field of baking, focusing on the practical training of candidates. About 25 participants between the ages of 18 and 62 were trained by the institute. It also helped to focus on improving the behavior and attitudes of trainees to improve their market acceptability. Candidates also received information on running small food businesses. This training program was free and the trainees also received meals from the Institute. Appetizing desserts and exquisite preparations such as bread, rolls, pastries, cakes, cookies, etc. have been demonstrated by the chief scholars of the institute.
"The institute has ensured that the training provided under the said program is of the highest standard so that the passers-by are skilled enough to be easily employable in the hospitality industry or start their own coffee shop." said Mr. Sitesh Srivastava, Director of the Institute.
One of the most experienced participants, Mr. Jasvir Singh, said, "I learned a lot from this program. I am 62 years old and now I want to start my own bakery business soon"